All of these photos come from 2005 Artifacts! There are a bunch of the game used cards here, with base versions and parallels as well. I do believe I have them all though. This would be game used exclusively, not anything autographed.
There is the following Patches card, which is serial numbered to /50. Not an incredibly difficult card to get. No parallel I am aware of.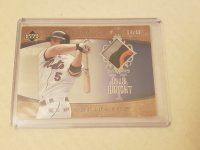 The next are a series of Dual Artifacts cards. The base versions are numbered to /99 and the Rainbow parallels are numbered to /25. Wright is featured with Scott Rolen, Mike Lowell, and Jose Reyes. The Rainbow parallels have a little foil shine to them.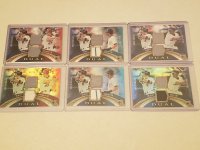 Lastly, there are two more individual game used cards, both with Rainbow parallels. An MLB Apparel base card /325 and it's Rainbow parallel /99. An AL/NL Artifacts base card /325 and it's Rainbow parallel /99. The Rainbows here are only really foil and don't have the shine the Dual Artifacts Rainbows have, so tough to really tell the difference via my photographs.