I got into several 90s insert sales this week and they all showed up today.
View attachment 20210612_165207.jpg
I actually managed to find a Barry Colla Postcard of Ozzie I didn't have on eBay this week.
Jeff has become something of a Twitter sensation lately with his #SheGone nation and crusade against quack hitting coaches and crazy baseball drills. I had to grab some merch and he was nice enough to include a signature on the brim as well as a signed card and certificate.
View attachment SheGone Hat.jpg
View attachment SheGone Hat Signature.jpg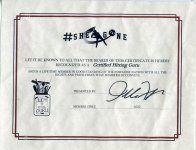 The biggie this week though was another Ozzie item. He doesn't have any playing era pack pulled signed stuff with the 1997 Donruss Elite Passing the Torch autos being the closest. When I saw this one I had to snag it even if it's a buy back auto. It's tough enough to find /5 parallels at release. Finding one sixteen years after it came out was quite exciting.
2005 Absolute 1997 Donruss Recollection Collection 4/5
Last edited: