Post your Mets related stuff here! Nothing too big or small.
I'll start.....2005 Ultimate Collection /20 and a 2006 Triple Threads /18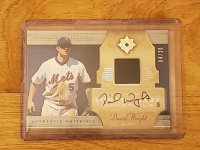 These are my most recent two pick ups. Granted, I got them over a month ago because things are pretty slow, what with prices being out-of-control high. Only 4 cards in the last 60 days, according to eBay.
Looking forward to seeing what others have got!!