I am not quite sure when the point turned, but it sure seems like you have a much harder time finding common guys signed these days. Perhaps the good old days of players signing at the ballpark and through the mail is a dying practice? I know getting IP autographs is a lot of work, sometimes for little return. In fact, often you are shamed for even thinking about selling them by other collectors. How dare you profit off the generosity of said player? However, we all are not interested in putting in the work, so someone has to make these available to other collectors who don't have the means or ability to obtain signatures themselves and need to look to the market for their needs. But how much should they cost? Supply and demand usually find a happy medium, but sometimes things just seem off.
Case in point is one of the Dodgers newest acquisitions, Chris Martin. I could start off by going go off on a tangent about even finding items for him can be tricky with a common name shared by a more successful and popular player (Chris Martin, Chiefs and Chris Martin Magnet/dog tag fame), but my main point is that I now need Martin for my Dodger collection. Prior to him joining the Dodgers, I wouldn't have paid a buck for his autograph.
First though, one benefit of collecting today (vs "the good old days") is it is often very easy to jump on to COMC and buy a cheap certified auto of some scrub your team picks up (Use Jake Reed as an example, who coincidentally also shares his name with a more successful/popular football player, making his 2nd stint with the Dodgers in as many years). A nice variety of certified signatures for less than $5:
If you are picky or need him only in the Dodger uniform, then it will be much tougher and probably more expensive, but I will always follow up on that Dodger version as a secondary want. My goal is to secure the best looking, cheapest auto I can find as quickly as I can find it. This is just in case something causes popularity/demand to increase all of the sudden before I have that player checked off the list.
So, Chris Martin doesn't appear to have a certified card, at least not on COMC currently and frankly, why should he? He's a 36 year old, journeyman pitcher with a 7-15 career line who is playing for his 6th team in 7 seasons. However, I am still a little surprised Topps, Bowman or someone else didn't slip in a bunch of rookie era stuff, like they do just about everyone else. This is the definition of mediocre.

So after striking out on COMC when I heard he joined the team, I went to ebay. Nothing at the time. As expected, it was only a matter of time before something shows up...for $20!? What in the f&@k???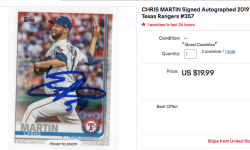 You are welcome to ask whatever you think you can get for your cards, but seriously, that is your starting point? Whatever...I am patient. Still, it makes me wonder why? Is he an A-Hole who doesn't sign? Is this seller just a huge opportunist who lists cards of newly debuted or traded players in hopes of hooking impatient suckers? This should realistically be a $1 card in my mind. Take that same $20 and you can have yourself a nice Frank Robinson autograph and still have enough for a value meal lunch (or a few more scrub IP autos)! Robinson was one of the great hitters of all time. 500+ HRs, MVP in both leagues, first black MLB manager. The guy did so much, yet gets a disproportionate amount of hobby love. Oh yeah, he isn't signing anymore either. Why, because he's dead! $12 for a deceased HOFer or $20 for a scrub! Sometimes this hobby really pisses me off.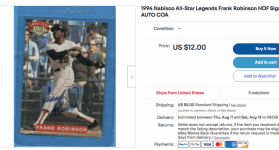 Anyone have a cheap Martin they are willing to trade or sell cheap or at least a reason why he might be the next Mike Marshall the pitcher or Bill Russell the recently deceased Celtic (another 2 name shares that makes finding one much, much harder than the other)?