Featured Contributor, The best players in history?
This is the first new HOF'er lineup card I've gotten in months. Lineup features Ted Williams in his prime, among with Dom DiMaggio and Johnny Pesky.
Joe McCarthy is better known for managing some of the great Yankee teams, winning 7 World Series from 1931-1946. He ended his career as the manager of the Red Sox, as shown here.
Really pumped about this one. It's been a pretty nice week for the collection!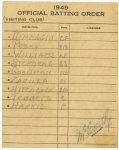 Sent from my iPhone using
Freedom Card Board