I hope this doesn't violate any terms of service for this site. I know some sites frown upon calling out people, while others allow it under certain circumstances or don't have any issue with it. If I am breaking any FCB rules here, I'd appreciate it if someone from the staff/ownership could let me know and give me a chance to make any changes necessary prior to this post being deleted or pulled down, I would appreciate it.
Thank you upfront for letting me rant and tell this story.
OK, I have been a supporter of ebay consignment seller Probstein123 for a long time. Aside from some small issues personally with past transactions that they always corrected, I had never had any issues with them. I even asked to return something they didn't have to take back and they agreed. Everytime I saw someone posting on a site or forum about Probstein123, I would always report that my experiences have been great.
I don't know how much money I have spent with them, but it's not an insignificant amount to me. I often have had invoices into 3 figure totals (i know, that isn't hard at all with cards) and on rare occasions, approaching 4. Compared to their overall sales, i'm sure I am not even a little blip on the screen though. However, each blip that is being disrespected and leaves can add up. They consign, so they are pissing off potential customers for every seller who sends their cards in, possibly resulting in lost bids, lower prices realized (unless you believe the many shill bid accusations) for the card owners and maybe even a dip in their consignment fees. They will get you a premium by using them most of the time, which is why people pay for their service and they have a lot of eyes on their listings, but they also have a TON of complaints. Is it disproportionate to their volume? Maybe, Maybe not? Who is to say. You can't please everyone, but can this many people be wrong? Their overall feedback is a seemingly reasonable 99.5%. Out of the last year, the good to bad ratio is "only" 0.0078%. Less than 1% dissatisfied customers is a good thing, right?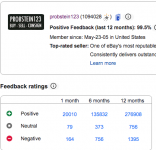 Reading through the negatives, I see a lot of the same thing, including what happened to me. It is not an isolated issue! Lots of complaints about poor packaging and lack of care, not shipping items, no responses, etc. Of course, high volume sellers get excused from having to respond to customers and to do things right, right? Nope. Take some time and read some of these feedbacks if you never have in the past. It paints a picture. I realize they have over 1 million feedback, possibly the most prolific trading card/collectibles seller on ebay ever, so how can a couple thousand negatives be that bad? Of course, that is only 1 year's worth too. If you multiply the positives out to reach 1M+, then you also do the same for negatives on average and that is 10K+ negative/neutral comments or more. WOW!
So here is what happened to me (for the 2nd time in almost as many orders). On 11/30, I bought 4 cards, paid right away and the cards shipped quickly. I won't complain that Probstein123 is good at combining orders and shipping fast. However, when the package arrived on 12/7, I opened it and 1 card was missing. I immediately messaged to notify them that 1 card was missing. NO REPLY. This had just happened to me not 3 months earlier. That previous time I ordered TWO cards and they only sent one! WTF?! You have 1 job, how hard can it be to ship 2 cards???? The previous time they refunded me my money. No explanation of where the card was. No apology? Nothing, just a refund on a card I still wanted! The card was numbered to 10, so finding a replacement was probably out of the question. by the way, it went for about $10. Keep that in mind for later, as this may help prove a point or two. This time, I got no reply to my short shipment. I must have messaged 2-3 or more times. I really just wanted the card, but at least if no card, send me a refund. NO REPLY after almost 2 weeks so I opened a claim with ebay, stating I still wanted my card, but would accept a refund if i had no choice. Ebay did their "investigation", saw that the package was delivered and denied my claim. I was not going to get a refund!
OK, how the F are you going to prove 1 item out of 4 didn't arrive when they ALL SHARE THE SAME TRACKING NUMBER? You can't! Yes, the package was delivered. I admit that. I got 75% of my order. That is not a secret or mystery. I didn't get 25% of my order though. Yes, ebay in their infinite wisdom decides that since the package was delivered, I must have received my full order so I am SOL!
I follow up that denial with a call to ebay this time and speak with someone in their customer service center. I took a little bit of time to finally get them to understand. English did not appear to be their first language. However, eventually I believed the person finally understood my complaint and was going to reopen the claim. Within a day of the call on 12/16, ebay had refunded me the $ for the missing item. However, I was working on another claim at the same time of the call, where a seller had ignored me as well and I did get a refund, but not before they actually shipped the package. Ebay apparently missed that fact and refunded my money anyway. I was trying to pay the seller back and that is when I learned a disturbing fact. Apparently the seller GOT THEIR MONEY anyway! Ebay had refunded me because the package didn't show delivered in the time stated. The rep literally told me that both the seller and I got our money and ebay was footing the bill. The seller had no incentive to work with me, but luckily it did get shipped. I ended up with free cards in that case, but the seller could have cared less about my situation, because they still got paid.
Back to my current situation, I am convinced that Probstein123 was not nicked for this refund. I believe ebay ate the refund again. I was still mad though, because I really wanted the card. It was a Jim Otto Fleer GOTG auto with a nice inscription, that I felt was probably somewhat unique. Probsten123 wasn't responding at all to anything, I got my money back, so I was basically out of luck. I was left frustrated and confused, because I had no idea what had happened to the card though and why wasn't it sent to me?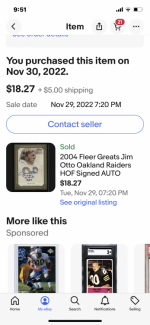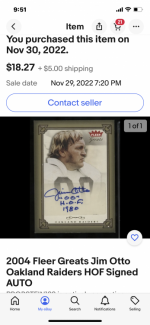 So, I figure tough luck. I am pissed at Probstein123 and am not sure I want to give them anymore of my business. I would like to think that hurts them at some miniscule level, but it hurts the owners of the cards too if there is less competition. If by some change the scale was large enough, this could eventually really affect their business, if enough people took notice and did something about it. It never will be, but if everyone looked seriously hard at spending their money with a seller who places very little concern with repeat customers, a difference could be made. i can hear it now though...cool, less competition and lower for me when you bow out.
It was no more than a week or so after I get my refund when Probstein123 relists the same exact card! WTF!? I won this card, I paid promptly, I reported the deficiency immediately when my package was missing this card and allowed them time to fix the issue. Why was it not sent to me in the first place and why was it back up for sale before the wound had even healed? They failed to even give me the courtesy of a response, let alone a refund or my card. I had filed a claim through ebay and eventually got a refund and then they turn around and relist the card almost immediately. That is some seriously stupid crap there.
Well, then I have the bright idea that I'll just win the card back. Of course, I don't want to and don't think I should have to pay more than what I won it for the first time, but there is a slim chance I get it cheaper (if they send the damn thing)! I load a snipe bid and do in fact win it again, this time for about double what I paid the last time. I immediately send off a message with photos, explaining that I won this card only a few weeks back and it was never sent. I asked that they adjust my invoice to the original price and send me the card I rightfully won and paid for before. I was happy to pay again. I am not in a position to get what I want here, but if you are looking at the RIGHT THING TO DO, I am. I am also not so naive to believe this would work, but was hoping that someone would take responsibility and make this right. Of course, they have not responded this time either, not one word. I have messaged 2-3 times and even used the "request an invoice" process to no avail. Somebody has seen these messages and has done nothing. The card still sits in my cart, unpaid after about 10 days. I expect that at some point, they'll either cancel the transaction or maybe even file a non-paying alert against me. If that does happen, I will call ebay at that point and share my story, if for nothing else but to try to eliminate a strike against me. I'm sure it will make no difference in the end.