1994
16 new A's in 1994.
Mark Acre - I thought he was a future closer but he was a dud.
Geronimo Berroa - Hit 87 homers for the mid-90s A's.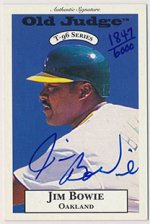 Jim Bowie - No memory of him, played 6 games in '94 and that was it.
Junior Noboa - Why on earth was Junior Noboa on the '94 A's? No idea but he hit .325 in 17 games and was released. The whole thing is a mystery.
Carlos Reyes - Provided below-average middle relief to the A's for 4 seasons.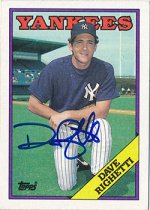 Dave Righetti - Dave Righetti pitched 7 games for the A's! He had a 16.71 ERA and was released. No A's cards.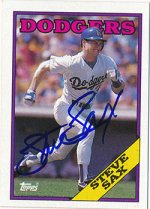 Steve Sax - Saxy Boy played the final 7 games of his career for the A's and got no A's cards.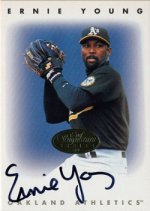 Ernie Young - He didn't do a whole lot in the majors but did win a gold medal on the 2000 US Olympic baseball team.
Missing:
Mike Brumley - He showed up on the '94 A's as well - I've got one incoming.
Fausto Cruz - Middle infielder that never did much.
Dave Leiper - Seemed to be a LOOGY and had a 1.93 ERA for the team. He has some cards from a previous '80s A's stint so I should be able to find one of those.
Francisco Matos - Who? Looks like he has one MLB card in '95 Pacific.
Steve Phoenix - His entire MLB career was 3 games over 2 seasons and his only MLB card was a 4-player Topps rookie card in 1995. Seems like he'll be a toughie.
Jeff Schaefer - Got one incoming.
Billy Taylor - Surprising I don't have his autograph, he was the A's closer for three and a half years.
Ed Vosberg - He has a Rangers card in '96 Leaf Signature Extended so I'll just wait to find one cheap.
So only 8/16 for 1994, rough. 93/127 1988-94.
I already have my first upgrade - remembered John Briscoe was in 1996 Leaf Signature Extended: