Seeing the great team autograph threads from Therion, dano7, and MrMopar has alwayds made me want to do something similar with the A's. With my 1988 Topps autograph set long-term project I've hesitated to spend even more on obscure A's signatures, but now that I'm getting down near 30 remaining for the '88s those pickups are really going to slow. So I may as well start a new side project...but I don't have any interest in going all the way back to the beginning of the Oakland A's, or God forbid the beginning of the Philadelphia A's, so I'm starting from 1988 - the first year I started paying attention to baseball and the A's. I've got quite a few but I'm not near complete now...making it a running thread to track my progress should prod me on to get closer to 100%.
Personally for me my order of signature preference would be:
1. A's certified auto
2. non-A's certified auto
3. A's uncertified auto
4. non-A's uncertified auto
I'd prefer that they all be on cards but that won't be possible for some real obscure players. As far as upgrading goes, I probably won't bother to upgrade any uncertified A's autos to certified non-A's autos but I'd like to upgrade non-A's stuff when possible.
EDIT: Current wantlist is
here
.
I will go by year beginning with the entire 1988 team, then new players for each subsequent year. Then I'll show new additions and upgrades as I get them.
Let's start with the players I have from the 1988 team, in alphabetical order.
Don Baylor - He finished up his playing career with the '88 A's. I don't believe he has any certified A's autos.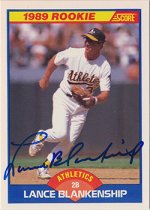 Lance Blankenship - I always liked Lance, he was a utility infielder/outfielder.
Rich Bordi - I have no memory of him on the team but he apparently started 2 games. No A's cards for him from this stint but luckily there's this older one from his previous time with the team.
Todd Burns - Todd was underrated and had some really good seasons as a reliever and swingman with the A's but was out of baseball before 1996 Leaf Signature came along, so no certified autos for him.
Greg Cadaret - He was shipped to the Yankees as part of the Rickey Henderson trade the next year.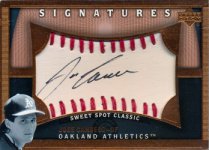 Jose Canseco - You've probably heard of this guy. I have several of his autographs but you can't go wrong with Sweet Spot.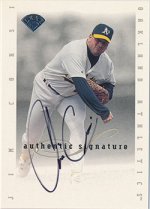 Jim Corsi - The first 1996 Leaf Signature (extended) card of the thread! There will be a couple more.
Storm Davis - Cool name and nice signature, too bad he does not have any certified autos. Not quite good enough to make a Fan Favorites set unless he had spent his whole career with one team.
Dennis Eckersley - I have a boatload of his autos but here's a Sweet Spot.
Mike Gallego - I also have his 1996 Leaf Signature Extended card but I might as well show my A's auto.
(continued in the next post)
Last edited: