A couple more in this weekend:
Randy Keisler - Pitched a mediocre 11 games in relief for the 2006 A's. According to his baseball-reference page he was selected in the draft every single year from 1995 to 1998, he must have felt very wanted. After all of that he pitched 55 MLB games with a 6.63 ERA.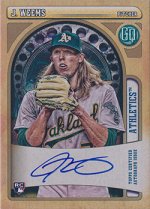 Jordan Weems - Was drafted by the Red Sox in the third round in 2011 as a catcher and converted to pitcher in 2016. Made 14 relief appearances for the A's 2020-21 then was waived when they needed room on the roster. Currently in the Diamondbacks minor league system.
Now at 575/691. Inching towards double digit needs.