Picked up a couple of cheapies at a show today: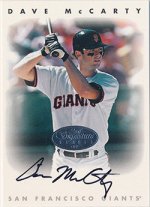 Dave McCarty - Stopped in Oakland for 8 games late in his career, before he went to the Red Sox.
Luis Vizcaino - Relief prospect pitched parts of 3 seasons with the A's then was traded for Justin Duchscherer. Later made 70+ relief appearances in 5 different seasons for the Brewers, D-Backs, and Yankees.
That puts me over the 550 mark, to 551/687. It also bumps me slightly over 80% complete.