It was definitely a Ginter and vintage oddball kind of mail day. It was also a "I've had packages floating around for over a week sitting on In Transit, Arriving late" kind of mail day so bigger than my usual mail days.
1952 Topps Look N Feel Billy The Kid - He's family so this one had to be added to my collection.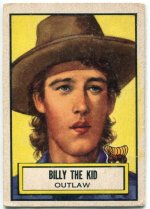 1887 N28 Allen and Ginter Maurice Vignaux and Yank Adams - These guys were rock stars as billiard players in the 1870s and 1880s. Yank Adams was the premier digital (hand) player of his day in an era when you weren't required to use a cue to play cushion billiards. Maurice Vignaux held multiple US and international billiards championships during his career and was the premier cue player of the same era.
Yank Adams and another billiard player named William Sexton (he's also in this set and will be my next add if I can track one down) put on the largest sporting event in the US to that point in 1878 with an estimated attendance of 20,000 people for a three day tournament in New York City. It was hosted at Gilmore's Gardens, the predecessor to Madison Square Gardens.
2011 Flora of the World Plantable Cards - These are the coolest things. They're printed on compostable paper and you can see the seeds embedded in the paper on the back.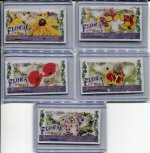 15 assorted Mini Sets from various Ginter years - I'm really focusing this year on knocking out my Ginter checklists.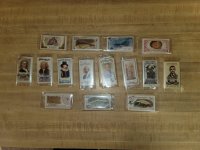 Hey a few baseball cards actually showed up too