Below is a bunch of the base and parallel items form the 2004 DLP PLAYERS COLLECTION multi-product series
I am sure I have more buried that need slabbing just have no idea where stuff is its why I am working hard on this inventory. Its actually the first full inventory of slabs plus items I've done since I moved to Vegas nearly 15 years ago
Done partial slab reviews but never raw plus slabs so this one's a chore
The 2004 DLP Players Collection Jersey was a 100-card GU jersey set that was released in four DLP products- 2004 Leaf, Playoff Honors, Playoff Prestige, and Studio
As usual props to baseballcardpedia for keeping info up baseballcardpedia.com/index.php/2004_Donruss-Playoff_Players_Collection_Jersey
Makes me want to dig up my 2004 DLP unopened boxes and see if I can flash out some more needs
Maybe a few box breaks !!
First up is
2004 LEAF
. This series is simple- your going to have a Green Version or a Platinum version of both Home & Away jerseys. I have the Green PC80 somewhere. If someone has any base Green stuff see me I do buy dupes of the base Leaf items. As you can see I kept my own pack issued stuff in good condition Mint 9 or better is difficult unless one does it themselves. There were just 4 items to worry about in this set= so I'm done with this set as I know I have the PC80 Green somewhere
As you can see the PC81 Platinum is mislabeled meant to get that fixed- will do so ASAP
BASE PC80 GREEN IS CURRENTLY MIA
Next up is
2004 PLAYOFF HONORS versions.
This one gets tricky. There are FIVE total items you could find for the Player Collection Jerseys
Blue (# to 250 copies)
Blue Number (# to 250 copies)
Platinum Number (# to 50 copies)
Platinum (# to 25 copies)
Gold (# to 10 copies)
I literally have zero clue where I stand here. Have not looked at my raw stuff in years on this one or some graded stuff either. Will have to spend time in 2021 looking up what I have and what I may still need. Its now on my 2021 "hobby" list of stuff to do
These two were in the box- the next 2 Blues I know are slabbed just need rescanned - and the balance ???? will need to check it out. The Golds are incredibly difficult to locate if you've ever tried getting your player.
These two below I know I have buried just need to locate them along with all my raw stuff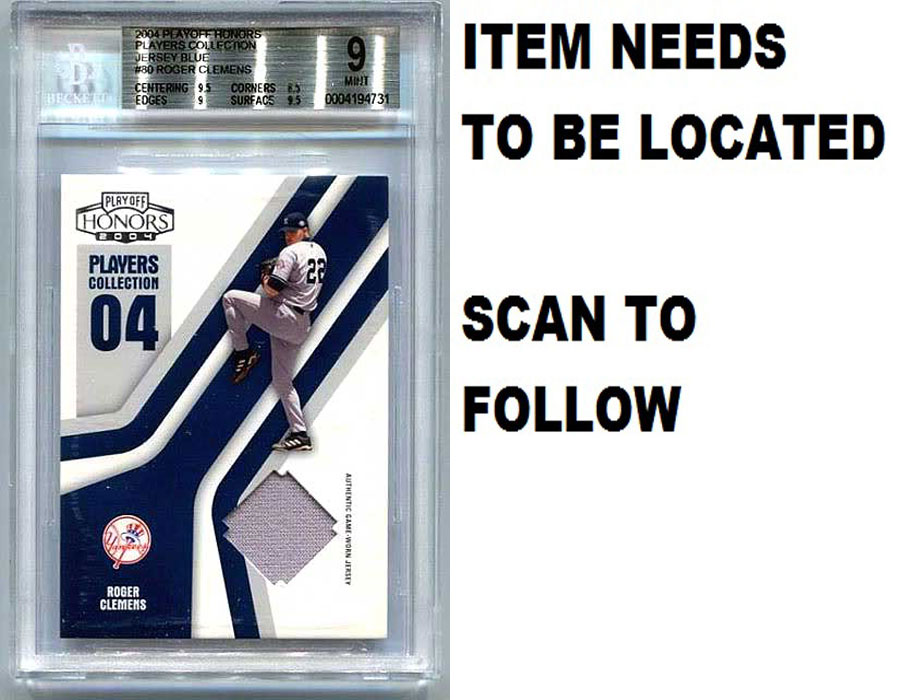 I'll get to the Prestige and Studio when I can