So the other day I showed off the granddaddy of Ultimate - today is Year 2 of the Ultimate series. This years set of
2002 Ultimate
was a lot less interesting than the first years- unless you collected McGwire and Ichiro. Then it became "very" interesting !!
I don't remember purchasing a single box of this series. Think I bypassed it completely and just went on eBay for my Clemens. Came out Dec 2002 so I believe I was planning my January 2003 golfing trip to the RTJ Trail in Bama so I wouldn't have purchased any boxes at all. Maybe I'll try and locate a box later this year after taxes come back and break one since I don't ever remember doing so over the years.
As always good info is contained here at baseballcardpedia.com/index.php/2002_Ultimate_Collection
Once again on another set I have emailed them. They are wrong about the Tier 2 Gold jersey levels- its serial to 30 examples, not 50. Hopefully they will correct it.
Roger had a bunch of Game used and 2 types of autos- base and Gold. He was a Tier 1 player so he had 320 base and 25 Gold. Strangely I can locate everything in these boxes but the base auto ( the base card itself is not slabbed yet all base being done last) Roger was also on a double patch card with Jason Giambi and both are below as well
And yes that Gold signature is # 01/25 I never cared much for numbering just wanted 1 example of each card just happened to get that one. Dealer didn't even list the number and scan looked like a 10 at the time.
If anyone owns any of the double barrels- fire away love seeing one. They are rarely seen so love to see it if you have an example !!
Each Game Jersey is available in the following Tiers. I initially tried to do this by colors but gave up
Too much headache trying to figure out gold/silver color schemes initially. Did it solely by serial numbering until I was complete
Tier 4 ( # to 199 )
Tier 3 ( # to 199 )
Tier 2 ( # to 99 )
Tier 2 Gold ( # to 30 )
Tier 1 ( # to 99 )
Tier 1 Gold ( # to 50)
,
,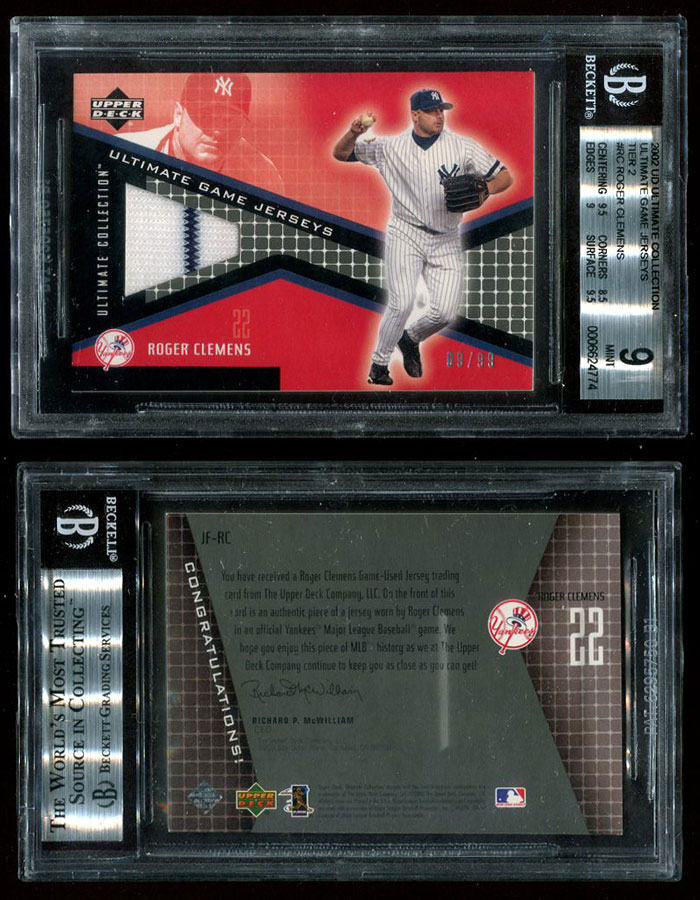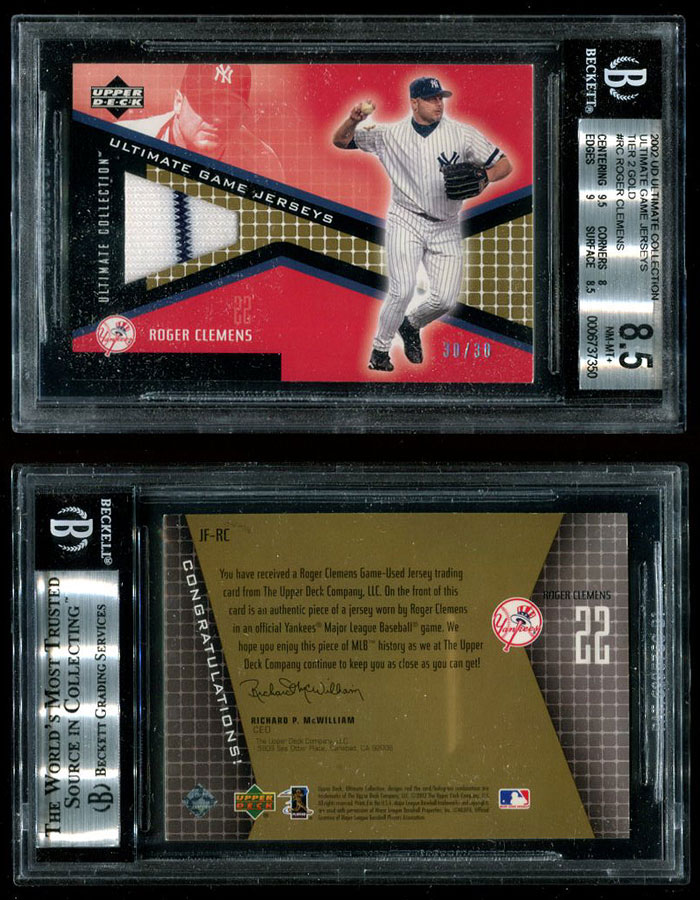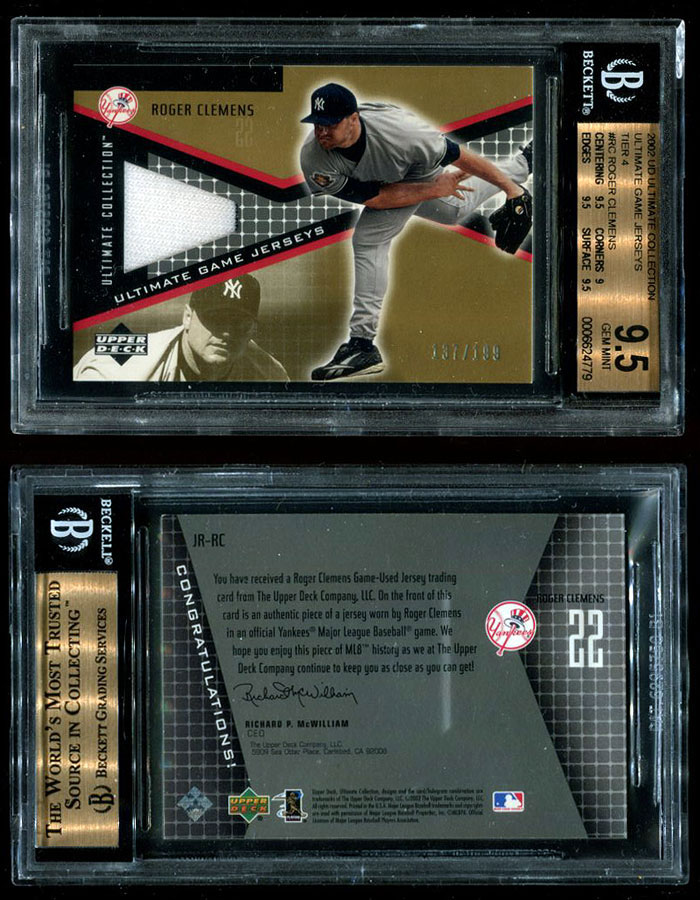 ,
,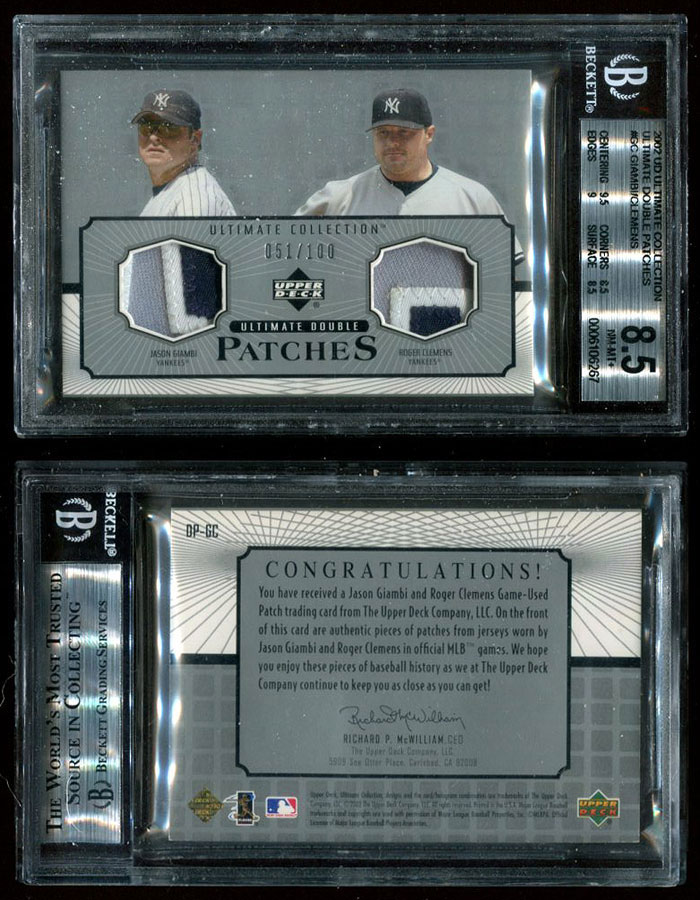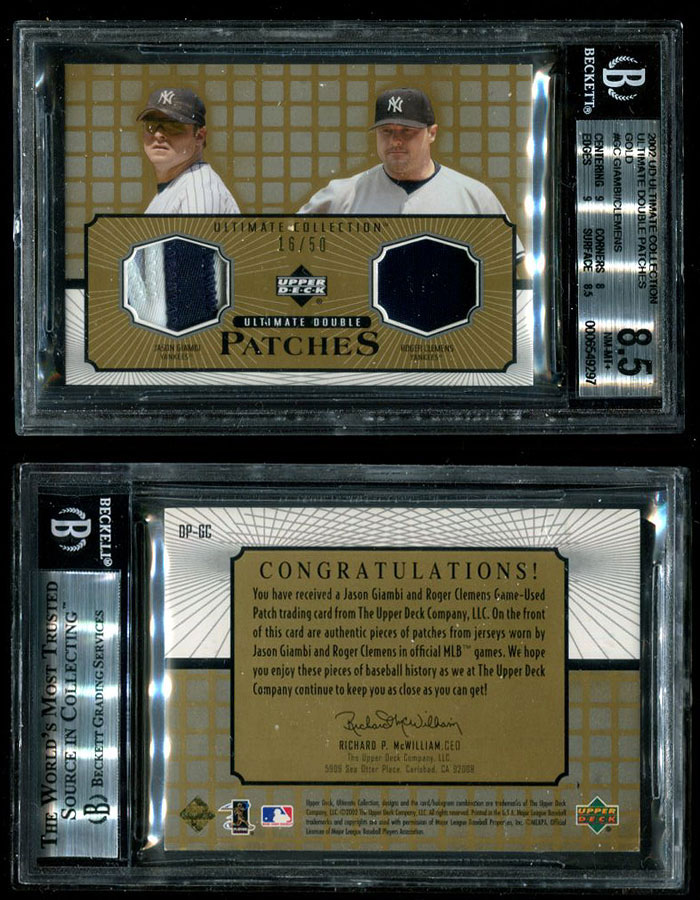 ,
,