It's been a long time since my last post here. Partly because I've just been busy. Partly because the flow of new cards has slowed to a trickle. And in a related note, Robbie got himself banned from MLB for life. Some incident involving harassment of a woman back in 2014 or so. MLB has not released details, but apparently Manfred had a look at the case and made that decision. I'm not sure what to think. These days an accusation by itself can go a long way, even when it shouldn't. On the other hand it must have been serious to warrant a lifetime ban, right? Right? It is pretty clear that over the years there have been a LOT of accusations, rumors, and what have you when it comes to Robbie. Mostly involving sex. None of it ever really stuck, but this one sure did. At some point you have to wonder...
Well, so it goes. But will I stop this collection? Hell no! And with any luck prices will come down. Yeah right.
Anyway, some new pickups.
The 1989 Star Alomar Brothers Promo, with Autograph. A COA generally comes with these, but of course COA's aren't always worth the paper they're printed on. But I've noticed a lot of these up for sale, from different sellers, and they all have the same COA. Plus there are not a ton of other autographed Star promos being sold. If you're going to fake them, why not Griffey and Thomas instead? So I guess they're probably legit.
In a related note, Beckett lists this mysterious "1992 Star Promos" set, with Alomar included. But damned if I have ever been able to find one, or any info about this set at all. I had assumed it was a bogus set listing, and I still do. But I did see an example of this card, slabbed by BGS, with the title "1992 Star Promos". Now did the Beckett graders know this auto'd card was part of this 1992 set? Who knows. But glad to have an example, since I do think that Star actually did have Robbie sign a bunch of these back in the day.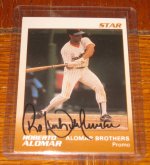 2004 Donruss Studio Platinum Proof /10. Got this in the mail yesterday and glad to add it to the old collection.
2002 Playoff Absolute Team Tandems Spectrum /100. This was the last one I needed to complete the entire run from this set. Surprising the /100 took so long to find!
Now a big one - a new Pacific parallel! The 2000 Pacific base set, portrait photo, emerald green /99. I'm just missing one to complete this run now. It'll show sometime.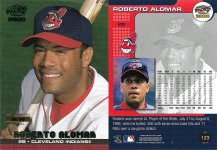 Last and probably least, I finally completed the 2019 Tek run. The swan song for my beloved Tek, it seems. This was a crap set, where Topps just reverted to their default colored parallels. No different patterns at all. But, being Tek, I am glad to have it done. Includes the gold /1.