Here's a couple more - the Authentic Images Team Gold issues from 1998.
These things are fairly mysterious. No info about them on TCDB, Baseballcardpedia, or Beckett. But they do in fact exist. And there are two versions for each of the 11 players in the checklist.
First, there's a "Gold Signature" card which is about 3" x 5" and printed on transparent plastic cel stock. It comes in a 3" x 5" lucite holder with 4 screws, which means the screws go through 4 holes in the card. The "Gold Signature" part is a 24K gold leaf facsimile signature on the front of the card. They are serial numbered to 1000.
I also found a variation of this card without the gold signature, but curiously, it still has a serial number.
Second, there's a "Gold Metal" card. This card is a thin metal card with a ghostly image of the player and a textured background, apparently also printed with a 24K gold coating. This image looks great in hand but it scans like shit. The metal card itself is the standard 2.5" x 3.5" size, but it comes in a 3.5" x 5.75" lucite holder. So the space between the border of the card and the edges of the holder is filled with a thin cardboard piece, printed with the Authentic Images logo and a baseball glove background. This cardboard pieces also has 4 holes for the 4 lucite holder screws to pass through. Both the card and the cardboard piece are blank back...so the "back" of this "card" is actually another thin cardboard piece printed with stats etc. I've had the two "Gold Signature" cards for a while, but had never seen the "Gold Metal" card for sale until last week...when I found it on frickin' Amazon of all places.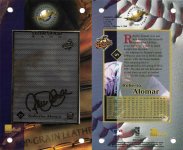 By the way, the checklist for both sets is Bonds, Griffey, Gwynn, Rodriguez, Ripken, Alomar, Thomas, Maddux, Clemens, Piazza, McGwire.