2016
Thirty new A's in 2016!
Arismendy Alcantara - Picked up midseason but only made it into 16 games and was waived at the end of the year.
Raul Alcantara - In the A's system for 7 years, only made it into 13 MLB games over 2 seasons and pitched poorly. Has played in Korea and Japan the last few years.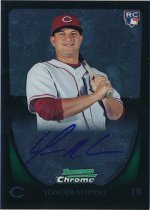 Yonder Alonso - Played 2 years with the A's, was crappy in the first and decent in the second before being traded to the Mariners to make room for Matt Olson.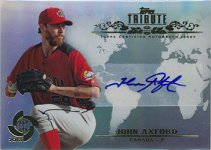 John Axford - Spent one and a half poor seasons in the A's bullpen before being released.
Chris Coghlan - Downright horrid in 51 A's games.
Jharel Cotton - I thought he'd be good and have tons of his cards. He was great in a 5 game tryout in 2016 before sucking in 2017. Hasn't pitched in the majors since due to injuries and ineffectiveness, currently in AAA for the Rangers.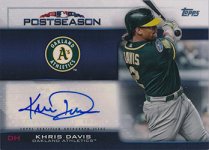 Khris Davis - The model of consistency, hit exactly .247 in 4 consecutive seasons somehow. Hit 40+ homers a season his first 3 years in Oakland then fell off a cliff and was traded to the Rangers for Elvis Andrus this past offseason. Released by Texas a couple of weeks ago.
Ross Detwiler - Pitched a very forgettable 9 games for the A's.
Brett Eibner - Hit .165 in 44 games. Currently in the Marlins organization.
Ryon Healy - The only A's Gold Refractor auto I've ever pulled from a pack. Third baseman was good in his first season and mediocre in his second before losing his job to Matt Chapman. Currently playing in Korea.
Continued in next post.