One of my bigger maildays
1998 Donruss Signature Paul O'Neill Preview
-- first one I've seen in 20 years. I imagine it was backdoored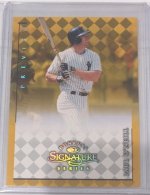 2003 UD Exquisite Patrick Ewing Auto /100
-- One of my grails, wish I had bought one sooner. Glad to have one in the collection. Few of these have faded/smudged autographs, but this one is sharp. Picture doesn't do the foil finish justice.
1998 Leaf Rookies and Stars Orlando Hernandez RC Holographic Longevity Parallel 1/1
-- In my last post, I had posted the O'Neill/Soriano misprint rookie. Wanted a single El Duque rookie, searching eBay to get an idea of his prices, I stumbled upon this!! If it is a true holographic parallel, then it is a 1/1 rookie card from 1998!! Seeing older posts, other such cards had similar condition issues. Significant release, one of the first 1/1 Yankee rookies in existence!
I didn't want to let it go, figured I'd buy first and ask later. Front has condition issues, back has sharp corners and edges without creasing. Looks like it's a problem with overlaying the foiling technology.
Last edited: