Some card designs just beg for signatures. 1958 Topps is one, except that a lot of the original and reproductions since have the giant head shot. Mulder /27.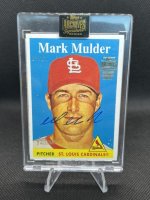 Needed a Raider card to go with the ND Classic and the Cowboys card I just go0t recently.
I have seen a weird variety of signature types of this card. Makes me wonder if some are fakes or signed by someone else or he just changed his signature in the middle of signing all of them?
Here are a couple on ebay now for comparison.