New month, newer cards than I usually pick up:
Some more '88s from 2023 Topps. Eck is 29/50 and Canseco is 071/199.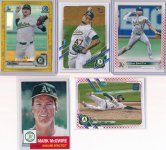 A mishmash...Criswell was traded to the Rockies but I have a feeling he'll be an okay MLB starter some day. Then there's a McGwire Living Set card I missed, and a few recent Topps parallels.