This tournament is for custom cards. The cards can be those that you own or those that you created for someone else (as long as the owner did not also submit the card). The cards can be from any sport, entertainment, personal interest, etc. All voting will be done in the thread.
As a reminder, the rules for all tournaments are posted here:
http://www.freedomcardboard.com/foru...nd-Information
Because of the strong interest in this tournament, we are doing this one as a "mega" 16+ card tournament.
Current Bracket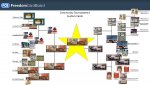 Last edited: