The COMC shipment I request in June and was scheduled to ship in September finally arrived. I already have another 250 cards to ship from them at this point, but I won't be requesting any shipments until next year for sure. Or maybe I should request delivery now if I want them before 2025. I'll just show the "highlights" but I'll still have to break it up into 2 posts.
Cool to get the full 1981 Squirt Rickey Henderson panel. His last card remaining on my wantlist from that year is the Granny Goose card, which is tough and seems to often be potato chip stained.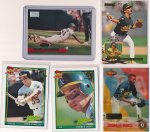 This batch completes team sets for 1993 Stadium Club First Day (one of my all-time favorites) and 1994 Sportflics Rookie/Traded Artist's Proofs. I'm 2 away from the Desert Shield team set and am only missing Rickey for the 1995 Donruss Press Proofs.
More '90s needs taken care of.
I believe I'm down to just needing the McGwire for 1997 Bowman Chrome International Refractors and Grieve for 1998 Bowman's Best Atomics.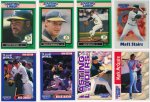 Finishing up my Starting Lineup card needs, these can be a bit tough, especially if you would rather just have the card and not the sealed card/figure. The final one I needed was 1989 Walt Weiss, which I've currently got sitting in my COMC account.
Topps Black pickups. I don't have any full Topps Black team sets but am just 2 away for 2003 and 1 away for 2004.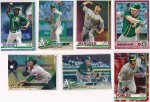 Various other recent Topps parallels. I am 2 cards away from a complete A's Topps Gold run 2001-2016. The two I need seem to be short-printed but I've seen pictures of them so I know they exist at least. I'll just be patient.