Let's start the new year with a huge team set completion: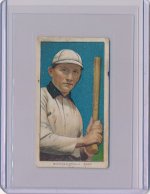 T206 Simon Nicholls, batting variation. That completes the 21-card Philadelphia Athletics team set. I picked up my first card from this set at the 2006 National (one of the three Chief Bender variations) so it took me about 16 and a half years, though it was only the last 5 or so I was really trying to actually complete it. An asterisk here as the team set would be considered complete without the extremely Wagner-esque rare Eddie Plank card. I'll never own that one unless I have a winning lotto ticket.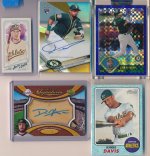 2018 Allen and Ginter Mini Brooklyn Back Piscotty 09/25. 2017 Topps Chrome Gold Refractor auto RC Franklin Barreto 19/50...probably won't ever complete that set as it contains regular and auto Matt Olson RCs that I didn't pick up back in the day. 2003 Topps Chrome X-Fractor Jermaine Dye 44/50, 4 away from that team set. 2007 Sweet Spot Bat Barrel Dan Haren 11/15. And lastly a 2017 Heritage Blue Khris Davis (print run of 50).